Seriously, make this. You won't regret it. This is my favorite salad in the world and my husband absolutely loves this too. In fact, I regularly make this as a side dish but lately I've been making it just for dinner because it's THAT good.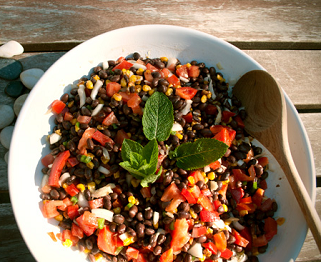 - 4 cobs corn, kernels cut from cob, or 2 cups (defrosted) frozen
- 3 tablespoons extra-virgin olive oil
- 1/2 cup red onion, chopped
- 2 jalapeno peppers , seeded & finely chopped
- 1 red bell pepper, chopped
- 2 teaspoons garlic, minced
- 3 cups cooked black beans, or 2 (15 oz) cans, drained and rinsed
- 2 large fresh tomatoes, diced
- 2 large avocado, peeled and cut in 1/2 inch dice
Dressing:
- Sea salt, to taste (1/2 - 1 teaspoon)
- 3/4 teaspoon ground cumin
- 6 tablespoons fresh lime juice
- 5 tablespoons vegetable oil
- 2 tablespoons apple cider vinegar
1. Preheat oven to 450F.
2. In a medium bowl, combine corn and oil, toss to coat. Spread corn in ungreased oven-proof baking dish. Bake in oven 18-22 minutes or until corn begins to turn light golden brown, stirring every 5-10 minutes. Cool 10 minutes.
2. Meanwhile prepare dressing. Combine all ingredients in a small jar with tight fitting lid and shake well until blended -- or simply whisk very well in a small bowl.
3. In a large bowl, combine corn, onion, jalapenos, bell pepper, garlic, beans and tomatoes. Mix well. Add dressing and mix again. Add avocados. Toss gently to combine.
4. Serve immediately or refrigerate up to 24 hours. (If not serving immediately, add avocado just before serving.) May be served over a bed of red leaf lettuce or just as is.