I know, I know. I'm dessert obsessed. Ever since I bought
Vegan Cookies Invade Your Cookie Jar
and
Vegan Cupcakes Take Over The World
, I just get so excited to bake yummy desserts and knowing they are cruelty free =)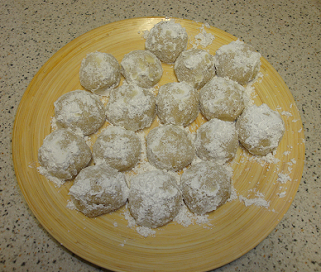 Phillip loves them too. I think it's great he can enjoy a cookie or cupcake and be surprised there is absolutely no cow's milk or eggs in the ingredients.
Before Phillip deployed, we spent a lot of quality time together. He got cutesy one night and offered to bake together. Totally romantic on his side since he does not like to cook or bake, unless it involves a grill. So he was my special little helper while we made these yummy cookies.
I believe these Nutty Wedding Cookies are
officially
my favorite cookie from this book. They are just
soooo
good! I definitely
recommend
these babies.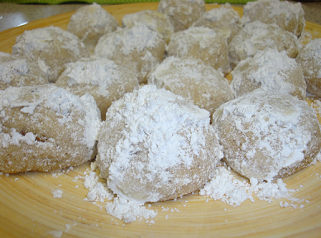 Ingredients:
- 1 and 1/2 to 2 cups powdered sugar
- 1/2 cup
nonhydrogenated
margarine
- 1/2 cup
nonhydrogenated
vegetable shortening
- 2/3 cup powdered sugar
- 2 teaspoons pure vanilla extract
- 1/4 teaspoon salt
- 1 tablespoon nondairy milk
- 1 and 3/4 cups all-purpose flour
- 1 cup finely ground pecans (I put them in a big plastic zip lock bag and crushed them with a rolling pin since I don't own a food processor)
Directions:
1. Preheat oven to 325F. Line two medium size baking sheets with parchment paper.
2. Sift the powdered sugar that will be used for coating cookies onto a large plate, set aside.
3. In a large bowl, beat together the margarine and shortening until light and creamy. Beat in the powdered sugar until smooth. Add the vanilla, salt, nondairy milk, and half the flour and beat until ingredients are moistened.
4. Add the remaining flour and pecans. Beat for 3 to 5 minutes to form a soft and fluffy dough. If the dough appears crumby, don't fret, just keep beating the dough until it becomes moist enough to stick together when pressed into a ball.
5. For each cookie, scoop a generous tablespoon of dough and roll it into a ball. Place balls of dough 2 inches apart on lined baking sheets.
6. Bake for 14 to 18 minutes, until the edges just begin to brown. Remove cookies from the oven and let them cool on the cookie sheet for 8 minutes. While the cookies are still warm move 2 to 3 cookies to the dish with sifted sugar. Carefully turn cookies several times to form a thick coating of powdered sugar. Very gently tap off excess sugar and place the cookies on wire racks to finish cooling.