Before I went vegan, I had to make sure the grocery store on post carried a lot of substitutes for myself so I didn't have to travel a great distance to get things like soy milk, ice cream, mock meats, ect. Even though I wish the grocery store carried a lot more than they do, they at least have the essentials.
It seems that the most popular buttery spread amongst the vegan community is Earth Balance. Unfortunately I cannot try out this popular brand because they do not sell it here. I am very fortunate to have one butter substitute called
Smart Balance
. I am pretty sure that Smart Balance only carries one buttery spread that is organic and vegan, and thankfully I can get my hands on it!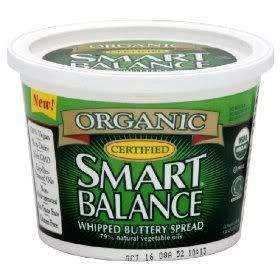 It's really yummy, tastes just like butter. My only complaint is that it is more salty than I would like it. But it does the job when I ever feel like I want some toast and butter. Phillip even loves having this spread on his toast instead of real butter. I love that man!