When I decided to go veg, the one thing I was worried about was dessert. I LOOOOOVE dessert! I just couldn't imagine life without another cupcake or cookie ever again. Thankfully, that is not the case!!!

While googling vegan books for myself, I came across an awesome book title that totally caught my eye.... "Vegan Cupcakes Take Over The World". Of course I bought it! That and "Vegan Cookies Invade Your Cookie Jar". The two books are both written by Isa Chandra Moskowitz and Terry Hope Romero. Seriously, best two books I have ever bought!

These books not only explain everything you need to know about vegan baking, but they come with amazing, delicious, down right AWESOME recipes!!! Who needs milk and eggs in their dessert when you can make the exact dessert dairy free? It's amazing, seriously...

Which is why I have now started my Carla Crocker section. I would like to share with everyone the recipes I truly enjoy. Not only dessert, I will share other recipes as well. Today is all about the Mint Chocolate cupcake!

This delicious little cupcake is from the book "Vegan Cupcakes Take Over The World". The first time I made this cupcake, I was on my way to a friend's house. She was having a get together and I decided to bring dessert. My friend ended up LOVING them and ate almost all of them to herself. Success!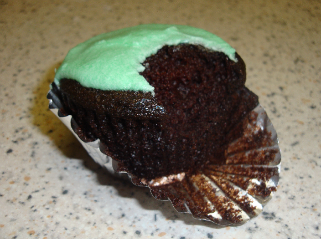 Here is the amazing recipe:

Ingredients =
1 cup soy milk
1 teaspoon apple cider vinegar
3/4 cup sugar
1/3 cup canola oil
1 teaspoon vanilla extract
1/2 teaspoon almond extract, chocolate extract, or more vanilla extract
1 teaspoon mint extract
1 cup all-purpose flour
1/3 cup cocoa powder
3/4 teaspoon baking soda
1/2 teaspoon baking powder
1/4 teaspoon salt

Directions =
1. Preheat oven to 350 and line muffin pan with cupcake liners.
2. Whisk together the soy milk and vinegar in a large bowl, and set aside for a few minutes to curdle. Add the sugar, oil, and vanilla extract, and all other extracts, to the soy milk mixture and beat until foamy. In a separate bowl, sift together the flour, cocoa powder, baking soda, baking powder, and salt. Add in two batches to wet ingredients and beat until no late lumps remain.
3. Pour into liners, filling three-quarters of the way. Bake 18-20 minutes. Transfer to cooling rack and let cool.

Icing Ingredients =
1/4 cup nonhydrogenated shortening
3 cups confectioners' sugar
1/4 cup plus 1 tablespoon soy creamer or soy milk
1 and 1/2 teaspoons mint extract
1/2 teaspoon vanilla extract
Small drops of green food coloring.

*This recipe also calls for a minty ganache, but I skip out on that part. Buy the book for the full recipe!

Icing directions =
1. Cream the shortening for a few seconds to soften it.
2. Add 1 cup powdered sugar and a tablespoon of soy creamer or milk and mix to incorporate. Alternately add sugar and creamer, mixing after each addition, until all the ingredients are used and the icing is smooth and creamy. Add the mint and vanilla extracts and food coloring. Mix to incorporate.

Now, with this cupcake, I have noticed I can never get the icing right. The icing still tastes awesome, but it's not creamy like it should be. And I think that is because I use soy milk instead of soy creamer (since I cannot find soy creamer here at all). So I definitely suggest trying creamer instead of milk.