Well everyone, I am home! It's been a rough few days. My daddy came to visit me in Germany for a few days and that was a grand old time! I missed him so much! He then drove me to Munich airport with my doggies and dropped us off so me and the dogs could start our journey home. I must admit, putting my dogs on a plane knowing they would be in a kennel for 8+ hours was not easy. After the worked wheeled them away I went to the bathroom, hid in a stall for about 2 minutes to let out a little cry. It was stressful and I was very worried about my dogs the entire flight. When we arrived in Chicago, I heard them in the baggage claim barking away because they saw me. I was so happy to see they were okay.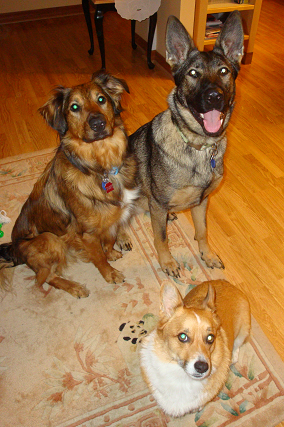 The New Pack. Sammy the collie mix, Meesha the german shepherd, and Spunky the corgi.
Now we are at my parents house, safe and sound. Daddy is still in Poland so I've been hanging out with Mommy. We've had a good first 2 days. We arrived on the 4th so I didn't really get to celebrate properly, but we did sit outside in the backyard and watched some fireworks. It was a great time.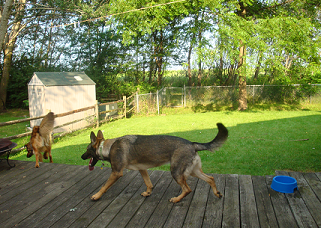 Meesha and Sammy playing in their new backyard.
The dogs are doing well. They are still adjusting to their new environment and still getting used to my parents' dog Spunky the corgi. I missed him so much and he was so happy to see me! Meesha sits by the door sometimes waiting to go home I think...she still hasn't quite comprehended we are staying here for a while. Sammy is still skittish to a few new things around the house but he's doing much better. They absolutely LOVE the fenced in backyard! Back home, no fence...here...FENCE! AWESOME!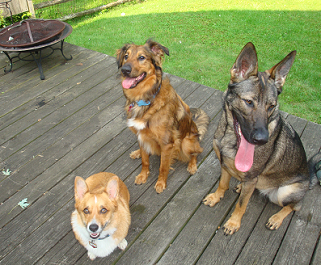 The trio again.
My mom seems to be really interested in my new lifestyle. I made her lunch the day I arrived and she really liked the red pepper hommus wrap! Yesterday we ate a bowl of cereal together with almond milk. She decided to use coconut milk in her cereal and she really loved it. She even said she will start using coconut milk in her coffee instead of real milk! For dinner my mom grilled some potatoes on the grill. We marinated them in olive oil and really yummy spices and had a very good salad on the side. I still have roasted garlic breath from last night...haha! Tonight, we soaked some pinto beans overnight so for dinner we are making bean enchiladas! Sometime this week she will be taking me to the organic whole food market here and we will definitely be doing a lot of shopping! I'm so excited to try this daiya cheese everyone talks about...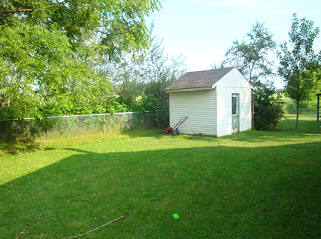 The backyard, oh how I missed
home!
Plus, Mommy even said she wants to go to Veggie Fest with me in August! I think I may have converted my mother into veganism HAHA! Well, I don't think she will give up meat completely or dairy, but she is definitely exploring healthier options with me. I am so proud of her :)
Well, I'm still getting used to the new time zone. I think I may take a nap...