It's been so awesome just spending time with my mom. I haven't seen her in so long and I almost feel like we are becoming almost like best friends. It's funny when you move out and have to deal with maintaining a household and being far away from your parents how much you learn to appreciate them.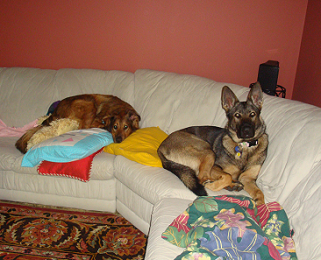 On Sunday my dad is coming back from Poland! So I get to hang out with both my parents soon. Plus my sister is getting married in about 10 days so I will soon see my entire family all together! Woo hoo!
I discovered Meesha loves the hose! I was watering something down in the backyard and Meesha all of a sudden lit up. We have a hose in Germany but I admit I have never used it. Never really needed to...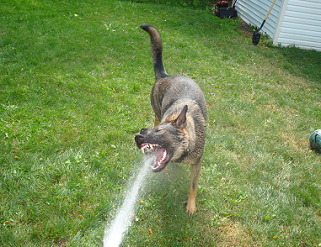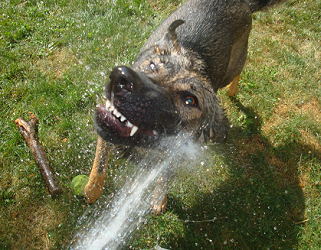 So after seeing how excited Meesha got, I ran the hose for a bit and let her chase the water, bite it, try to eat it...haha! She is a goofball! Spunky the corgi already loves the hose. Sammy would prefer to sit this one out and just look cute.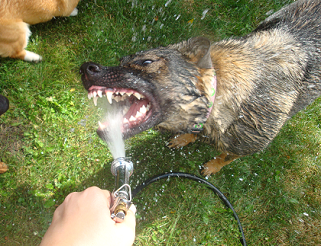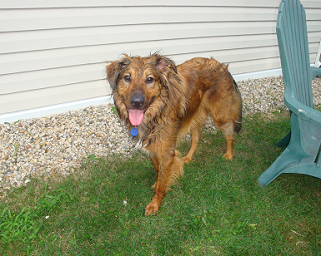 Exciting news on the food frontier, my mother and I managed to make a healthy version of
pierogis
! As I've mentioned before, my family is Polish and pierogi are very popular in this house, especially around the holidays! My mom usually stuffs them with potatoes, cheese, meat, sauerkraut, ect ect. There are a lot of options for pierogi. Growing up, my favorite pierogi were the ones stuffed with potatoes, onions, and cheese. Obviously I don't eat cheese anymore, so we tried something new!
First, I try not to eat white flour anymore at all, so for the dough we used whole wheat flour. It's the best we could do for now and it's better than white that's for sure!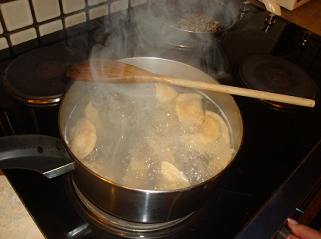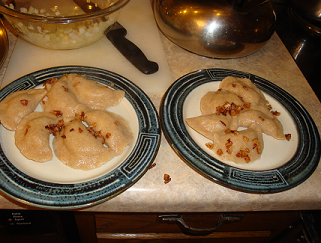 Whole wheat potato, "cheese", onions, and garlic.
Then for the stuffing, we still used potatoes and onions, but this time we added some garlic for flavor and I bought some vegan cream cheese at Whole Foods! Adding that gave it just the right kind of flavor. Obviously not the same as before, but I can totally eat these every holiday!