Last night was a lot of fun. After Mom came home from work, we decided to make home made pizza so we could try out the
Daiya cheese
I bought at Whole Foods. We bought some pizza crust mix from Whole Foods as well. The company that makes it is called
Namaste Foods
, plus the pizza crust mix is also gluten free. The ingredients looked great. They included Brown rice flour, arrowroot flour, tapioca flour, xanthan gum, Italian seasoning, cream of tartar, baking soda, salt and ascorbic acid. Probably not the best we could buy, but I think it's pretty good.
We baked the pizza crust in the oven. While it was baking, we grilled up a bunch of yummy veggies marinated in balsamic vinegar. Those veggies included zucchini, red onions, garlic, black olives, and red bell pepper. We bought those all of those from Whole Foods the previous day =)
The pizza turned out amazing! After the crust baked, we added some tomato sauce, the veggies, and topped with the Daiya cheese. Then, we baked it for another 10 mins and tadaaaa. All ready to eat!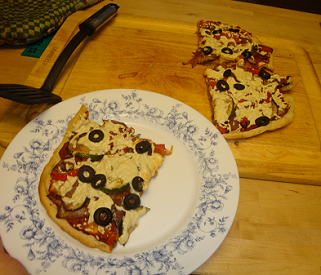 So about the Daiya cheese, I can say that it is okay. Truly, I feel like I can live my life just fine without it. It's obviously not real cheese so it doesn't taste like real cheese. It has a good consistency and the flavor is okay. I do think it's a bit too salty, but all in all it was just okay. I don't think I will ever crave that cheese and I will maybe buy it again one day, but like I said, I can live just fine without it. I did eat the leftovers we had from last night for lunch today though. Next on our menu for this weekend will hopefully be something with quinoa so my mom can experience this little grain.