I think it's pretty cool that even though we live in Germany for a few years, we have a family member that lives in the same country! My husband's cousin is married to an airman and they are also stationed in Germany for the time being. Our schedules finally let us all get together last weekend!
Katie and Jeremy drove down to where Phil and I are stationed and we all had a really good time hanging out. Phil and I took them to Pottenstein, the same place we took MIL when she was here! It was a great time. We explored the caves of Pottenstein, which I thought was very cool to see. It got tiring in there though, walking up all those stairs!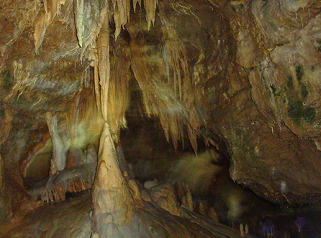 One cool lookin' picture from the Pottenstein cave!
After cave exploring, we ended up on the other side of where we entered the cave. It was so scenic though I didn't think we really cared. Plus, the sun came out finally after a week of rain!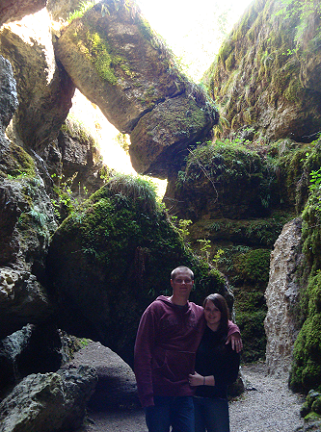 Me and my husband, Phil, outside the Pottenstein Caves.
Once we found our way around back to the parking area, we walked the trails to find a toboggan hill where a lot of locals were in line to ride. We definitely wanted to try this out! It was such a good time. Me and Phil both rode in the same toboggan and he was in charge of the break! I almost didn't trust him...If he drives like a maniac on the autobahn I thought he would "drive" just as bad on the toboggan. Thankfully he was a nice husband and did break a lot during the turns! I even managed to snap a few pictures of us going down.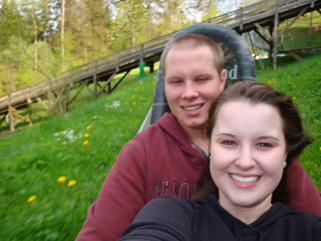 Me and Phil on the toboggan!
Afterwards we ate dinner at the same restaurant we took MIL to, where I ate fried mushrooms. Not too bad. Then we drove back home and decided to play an intense game of Monopoly, where family discounts were involved! Me and Katie sipped on my Organic Wine I purchased at the Bio Markt in Weiden when MIL was here. It was amazing! It might just be in my head, but I swear I didn't get a headache the next morning from all that wine (we drank two bottles to ourselves!) and I totally think it was because it was organic. Plus Katie liked it too so that was a plus!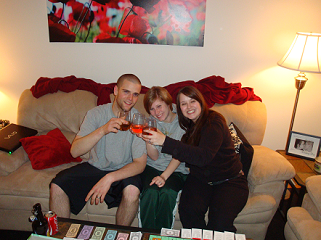 Jeremy, Katie, and I drinking while playing Monopoly!
Oh and Sammy stayed up with us most of the night with us trying to join in on Monopoly. Poor guy had a rough night, can you tell?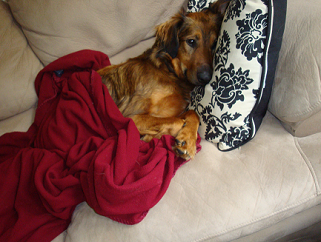 All in all it was a great weekend! Now it's Monday, time for me to clean my house top to bottom and get ready for our up coming cruise!!! That I will explain in another blog! Have a great Monday everyone.