Yesterday I blogged about the new hair care products I've been using. Today I want to share the hand soap and body wash I have discovered.
I think
Pure & Natural
is a great company. I think my favorite part is how the packaging all their products come in are recyclable. They also use 94% natural ingredients, which is pretty awesome considering the old soap I used to use. Plus I love what they wrote as their commitment.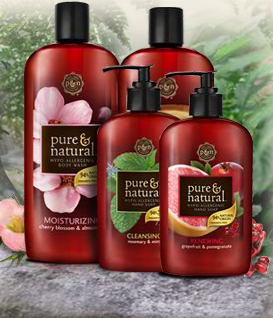 Pure & Natural's Commitment:
"At Pure & Natural Company, we believe in the power of nature to nurture skin. This is why we take every step possible to protect not only the people who use our products but also the natural resources that make them possible. Every step we take does make a difference. This is our approach to our products, and our planet. It's our very reason for being. We also believe very strongly in protecting the creatures who call our natural world their home. Because of this commitment we are pleased to make an annual donation of at least $100,000 to World Wildlife Fund. This is another step we are taking, and we invite you to make the journey with us. Together we can move towards a healthier world."
I love supporting any company I can that cares about our world and the animals we share it with. And it's a huge plus that the hand soap I now use, the
almond oil and cherry blossom
, smells awesome and makes my hands feel nice and soft.
Now it's time to find the perfect face wash! Still on that search!