Well, the week is over! It was a nice week having my MIL here with us. My husband was definitely very happy to see his mom for the first time since Christmas 2008! I would like to share a few of our adventures we took plus all the food I ate while she was here.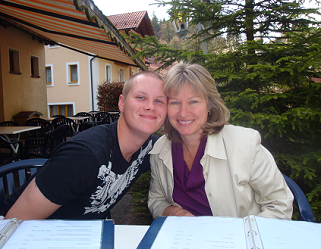 My Husband and my MIL
MIL arrived to Germany on April 29th and it was such a nice day outside! Clear skies, warm weather, perfect time to take her to a local German restaurant and sit outside! The first restaurant we took her to is a restaurant us Americans call "Steak on a Stone". Their specialty is to serve raw meat on a very hot stone and the customer cooks the meat himself. Yeah I know what you're thinking... not exactly vegan friendly. My family however is not vegan. So every restaurant we visited, I had to make my own meal! This specific restaurant, that is really called Gasthof Schuettersmuehle, actually had a vegetarian menu. The menu literally had 3 options for vegetarians and all but 1 included milk or cheese. So I had quite a simple dinner that night that consisted of fried mushrooms with a side of fries and salad. Hey, it's a lot better than what my MIL and husband ate...kangaroo and crocodile? No freakin thanks!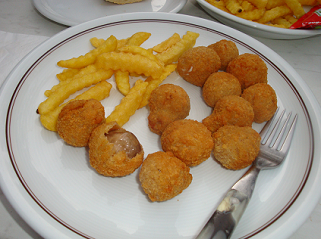 My meal at Gasthof Schuettersmuehle. I ate the salad before I took the pic!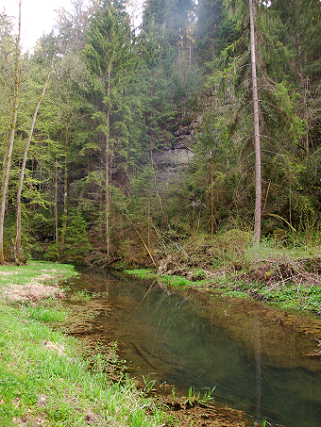 Gorgeous scenery in Pottenstein.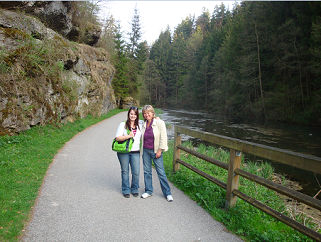 Me and my MIL in Pottenstein.
After walking the amazing trails in Pottenstein, we headed home and let MIL rest after a long 9 hour flight. The next day, we took her to a town called Amberg, where we ate at the same restaurant I had mentioned in a
previous blog
called ME Lounge. It's such a cute little restaurant. I love the dim lights and the bright orange walls. Here I knew exactly what I wanted since I have been here before: Pasta tossed in olive oil with tomatoes and olives! Delicious.
My pasta dish at ME Lounge.
On Saturday, we took my MIL to Munich! We had to take her to the famous and well known Hofbrauhaus. The Hofbrauhaus is a huge and famous brewery in Munich that is famous for it's good German beer. I actually do not like beer at all. So instead of drinking the beer, I drank the champagne!
Me drinking the Hofbrauhaus champagne.
After getting a little drunk at the Hofbrauhaus, we decided to walk it off in downtown Munich! We had a lot of fun listening to some live music on the streets, looking around in the local shops, attempting to find a bathroom in the city because my husband had to go so bad (who wouldn't after 4 liters of beer?!), then visiting the Hardrock Cafe for dinner!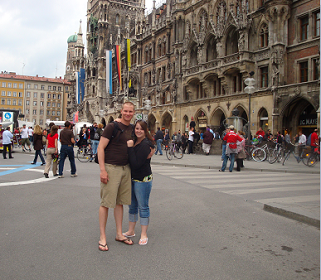 My husband and I in downtown Munich!
I am a bit disappointed in the Hardrock Cafe. I love this place for the music of course, but their menu is not vegetarian or vegan friendly at all! They literally have only one option besides for salad and fries! The one option was very good though. I got the veggie burger with mushrooms, caramelized onions, grilled zucchini and grilled yellow squash. It really was delicious, super huge so I couldn't finish it, and the waiter told me the burger is not made with eggs.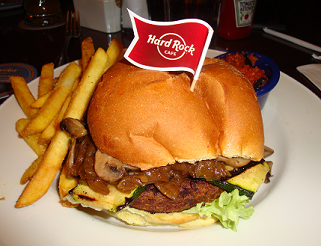 My huge Hardrock Cafe veggie burger.
While we were in Munich, my MIL is pretty much addicted to coffee. No joke this woman cannot function without a daily cup of coffee! So we had to stop at Starbucks. Remember
my post
about Starbucks making a difference? While waiting in line for her cup of coffee, I came across an awesome travel mug! Not only is it cute, but it is advertised that it is made with 81% recycled content and 28% post consumer recycled content. I thought this was pretty neat, so I bought the travel mug since I don't have my own. I now have a travel mug for my daily green tea I drink, which means I can now drink it on the go!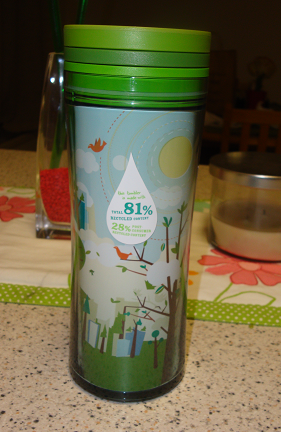 My new travel mug.
One of our last dinners here in Germany was at a Greek Restaurant in a town close to where we live. They had quite a few vegetarian options, I just had to ask for no butter! I got a yummy appetizer there too made of grape leaves stuffed with rice and peppers and topped with a zesty lemon sauce. I asked the waiter if the sauce had milk or cream in it and he assured me it did not. It was sooo good! My main meal was roasted eggplant stuffed with onions and peppers with a side of fries. I couldn't eat the fries though, I'm so sick of french fries after eating out so much. Plus they just aren't good for me, no more fries for this girl!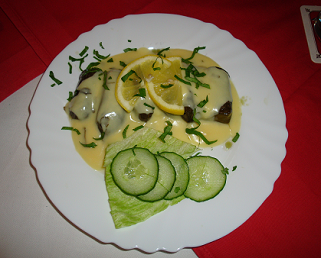 My yummy appetizer.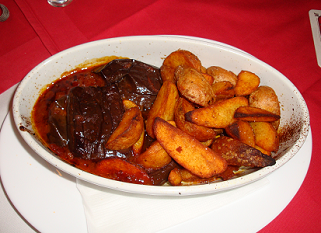 My roasted eggplant.
All in all it was a great eventful week. I think I did an awesome job planning my meals at all the restaurants we visited. I may not have been perfect but I really feel great that I tried and all the food was yummy.