My husband recently had a work BBQ. The wives were asked to bring side dishes if possible. I knew I probably should since in their email they said "We will provide the meat". To me that says "AKA Carla you better bring something for yourself to eat!" So I was a little stumped as to what I could bring as a side dish for other people but as a main dish for myself.

I joined a vegan forum a while back and someone suggested to me to make this amazing bean salad! I recently started following Brigit Gaia's blog after I saw this bean salad and I've seen quite a few delicious looking recipes! I'm so glad someone suggested her recipe to me so I would like to share it with anyone who reads my blog!

I think the one thing that made me decide this would be the recipe I would make is the picture. It is just so colorful...I would totally eat that if it was in front of my face!

With that, here is Gaia's Black Bean Salad....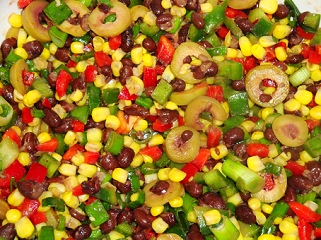 Ingredients:
- 2 cups cooked black beans, rinsed and drained
- 1 cup cooked corn, or more, to taste
- 1/2 of a green bell pepper, finely diced
- 1/2 of a red bell pepper, finely diced
- 4 to 6 green onions, finely chopped (or finely diced red onion; I used the green)
- 1/3 cup (or more) of green stuffed olives, sliced
- Black olives, sliced (optional, I didn't use them)
- Fresh parsley, chopped (unfortunately I didn't use parsley since I didn't have it on hand)
- Salt & pepper
- Lemon juice, to taste
- The tiniest bit of olive oil
Directions:

1. Mix all the ingredients together and let the flavors meld, in the fridge, before serving.
This salad really is sooo good! I added probably a little more olive oil than the ingredients called for, but it was still amazing. Or I just love olive oil too much...hmm...