I love this list. PETA lists a lot of snack foods, beverages, baked goods, condiments, and more that are all vegan. There were a few things on there when I looked that I was so happy I didn't need to give up. My favorite...OREOS! mmmmm!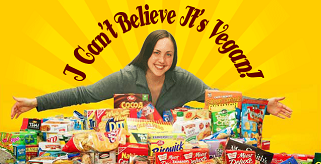 http://www.peta.org/accidentallyVegan/
Here are my favorites...
- Oreos (duuh)
- Blow Pops
- Jolly Ranchers
- Teddy Grahams (Chocolate and Cinnamon)
- Orbitz Gum
- Sun Chips Original flavor
- Nestle Nesquick Syrup (Chocolate, vanilla, and strawberry!)
- Cap'n Crunch Cereal Peanut Butter Crunch
- Cocoa Puffs
- Reese's Puffs
Those are just my top 10 favorites. The list is HUGE. It's awesome how many things out there are vegan and you wouldn't even think about it!