Today my husband and I traveled to Nurnberg. We have been there numerous times before, but today was my first time traveling with a vegan diet.
I googled vegan restaurants in Germany a while back. There is actually a lot over here! But where I live, the closest ones are in Nurnberg or Munich.
So we drove to Nurnberg, did a little shopping, then decided to check out one of the restaurants I had found online.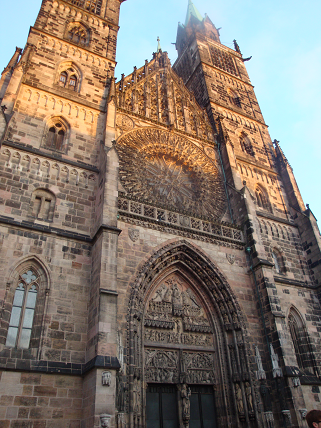 St. Lorenz Cathedral in Nurnberg
Actually, this wasn't a nice sit down restaurant. It is called "Veg Food - Vegan Imbiss". Imbiss means "snack" in German, so it was one of those places where you can order some food, sit down and eat or grab it to go. I know there is also a nice sit down restaurant in Nurnberg, but we wanted to get home to our dogs so we decided to check out Vegan Imbiss instead.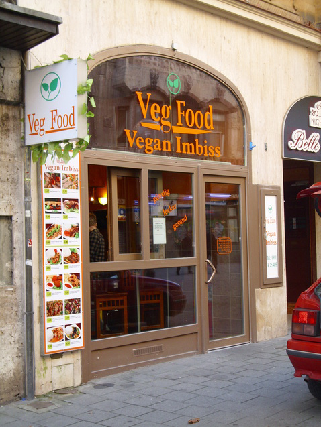 It's so funny how Vegan Imbiss is so close to everything we usually do in Nurnberg. We found it and went inside. It was a small little room, just like most of the quick food places in Germany. But it was completely Vegan! The menu was awesome. So much variety...and all vegan! There was things like tofu soup, vegan nuggets, a curry lovers dish, vegan fillet, roasted noodles with breaded vegan meat and vegetables, and tons more.
My husband ordered a vegan hamburger and vegan hot dog with fries. I ordered a vegan panini. My husband devoured the burger, said the hot dog was okay (I thought it was the best soy dog I have ever tried!) and my panini was awesome. I actually had to make sure there wasn't any meat in it because they could have fooled me.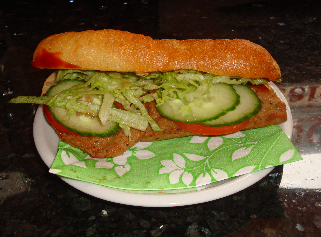 I am so proud I finally tried my first vegan meal outside my home. Even though it wasn't the best I could try, I am so happy to know when I visit Nurnberg I can pop in and get a quick bite to eat like everyone else does.
Here is the link to how I found out about Vegan Imbiss...
http://www.qype.co.uk/place/1097265-Veg-Food-Nuernberg
And here is the restaurant I want to visit next time I visit Nurnberg, it is Vegetarian mostly but everything can be modified, woohoo!
http://www.chesmu.de/