A green monster...not like
Shrek
....
Word on the street is people who put veggies in their smoothies call it the Green Monster! It's quite clever actually. If you feel like you aren't getting enough veggies in your diet, make a smoothie out of it!
The reason I decided to try this is because since I am a new vegan, I still feel like I'm not getting everything I need. I'm still doing a ton of research, learning new recipes, figuring out how to plan my meals, and making sure I'm getting everything I need. But some days I don't feel like I had enough.
Which is why I googled a few recipes for a veggie smoothie. I tried it out, and let me tell you it was so good! I felt like I was drinking a regular fruit smoothie except it was green. You can't even taste the veggie!
Here is the one I made for myself and my husband, who also agreed it was delicious.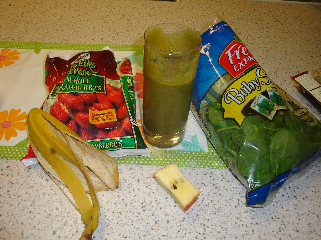 Excuse my sad attempt at taking a creative picture!
Ingredients:
- One banana
- One apple
- A handful of fresh baby spinach
- 4 to 6 frozen strawberries
- Some water
Directions:
1. First, put the handful of spinach into a
blender
and a little water and blend it up.
2. Add the apple and strawberries next, blend it together.
3. Last add the banana. The banana was a must for me; it made the smoothie nice and creamy.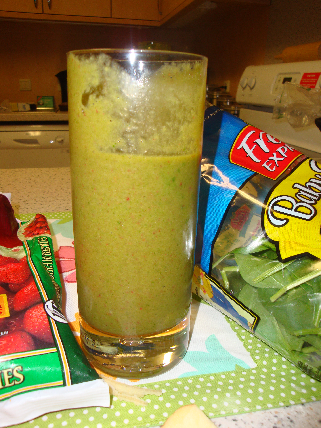 Looks gross doesn't it? But it's

soo

good!
This is just the smoothie I made up with the ingredients I had on hand. You can make a lot of different Green Monsters! I want to these next...